Today I launched an extension for Twitch that allows streamers to perform queue management!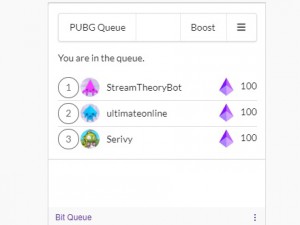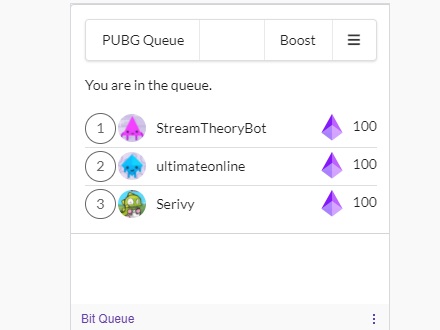 Bit Queue allows you to create queues for viewers to join, requiring custom fields and bits to join. Useful for creative talents, games or anything that is worth something to your fans when you're in demand!
Many streamers lack a way to be compensated for their interaction with viewers. Bit Queue lets you close the gap between viewers and broadcaster by allowing them to join your queue and see their position. Joining can cost a flat out bit fee or if demand outweighs supply let them put their bits where their mouth is!
The bit queue lets you customize the queues in many ways including:
– Custom fields to satisfy the queue
– Restrict to followers or subscribers
– A cost to join the queue
– Allowing a bidding war over position
– A fast pass to the top of the queue
Be rewarded for your talents and fame.
Check it out at https://www.twitch.tv/ext/49qu7wv3myvul5fa7fxazo1bcsnc8j